> ABOUT VOICES
mission
meet the president
workshops/events
volunteer opportunities
support voices

>DOCUMENTARIES
short grassroots videos
feature documentaries
outreach/distribution

> SOCIAL & CAUSE MARKETING
about campaigns
issue advertising

> CAMPAIGNS
grassroots campaign
fundraising event
advocacy campaign
nonprofit website
corporate philanthropy
nonprofit media kit
youth drinking campaign
cause marketing event
corporate ad campaign
foundation logo
theatre arts marketing
cause marketing
nonprofit e-marketing
print PSA campaign

> NEWS
voices blog
|THE EYE| e-Zine
media news
festivals/media events
media trends
media news archive
contributor stories
voices interviews
pop culture test

> MEDIA LITERACY
objective/overview
support/resources
workshops/events
voices interviews

> YOUTH MEDIA
youth media
youth video festival
skills/learning areas
outreach/distribution
youth resources
support youth media

> MEDIA POLICY
advocacy
media policy
get involved
policy resources


SOCIAL MARKETING :: FUNDRAISING MATERIALS



Fundraising Poster

Myhelan Cultural Arts Center held an annual Art and Other Fine Things fundraising event. Invitations, posters and counter displays were created to promote the event using artwork donated from the artist. The artwork was originally used as the cover to Hillary Clinton's popular book It Takes a Village to Raise a Child.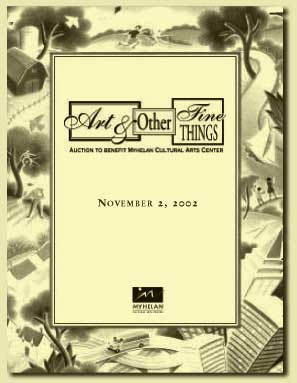 The invitation was printed in black ink and white paper stock in previous years, but by printing a brown sepia colored ink on a cream colored paper stock the invitation took on a sophisticated, antique-like, look with the same budget.



VISIT
THE VOICES OF HOPE BLOG, |THE EYE| to get the latest info on films, events, workshops and all-things media and pop culture with a socio-political point of view.
YOUR MISSION IS OUR MISSION.
Partner with Voices of Hope Productions to market your message, develop your documentary video story, or advocate for your cause. You can be assured we will work with you to raise awareness of your organization, and build resources to bring about positive and lasting change-one story at a time.

VIEW DOCUMENTARIES


Find out about the
Youth Video Festival
"The first thing to keep in mind, is that your objective is not to make a 'TV show' or a 'show' of any kind. You are collecting evidence; you are encouraging witness; you are emboldening ordinary people to 'go public.'"

George Stoney from forward in
Turn on the Power! Using Media for
Social Change
_______________________

© 2005-2007
Voices of Hope Productions
New Jersey
201.320.4920 info@voicesofhope.tv
_______________________